✖
LEGAL NOTICE
Highway Games has the Exclusive Distribution rights for this product, English Version Ocean King. Any unauthorised use, copying, or, reproduction of this game in its whole or part will result in legal action against the offender/s. We are aware of copy products being marketed as Ocean King or variations, especially from China market sellers. If you are unsure whether or not what you are buying is a copy product, please contact our sales team.
Ocean King: The #1 Selling Fish Hunter Redemption Arcade Machine
With the Ocean King fish hunter game, 6 to 10  players can go head-to-head in a race against each other to catch as many and more profitable fish as possible, scoring points to get the biggest payout! This simple concept is offset by fast, exciting gameplay that demands quick thinking, skill and co-ordination. The cabinet features a high resolution, 55″LCD display with superb 3D graphics that makes for some beautifully detailed ocean scenery. The cabinet also takes coin in and outputs redemption tickets; there is also an available note acceptor option as an input.
The latest in the long line of the successful Ocean King franchise, we now have available the Ocean King 3 Plus: Crab Avengers,  Ocean King 3 : Monster Awaken  and Ocean King 3 : Turtles Revenge as 6, 8 or 10 player video redemption fish hunting game in which players must face the Ocean's most fearsome monsters. The game controls and gameplay concept are essentially the same, making the change over quite smooth, however this edition is far more action-packed. Ocean King 3  sees 16-17 returning characters, plus several new ones and six BOSS characters! The return of the Lightning Chain feature as well as a slew of new features, new arsenal of powerful weapons, and brand new mini games make Ocean King 3 the most fun and exciting Ocean King game to date! Catch fish, win games, and fight off the SIX BIG BOSS characters to complete stages! The game is available in an 8 player cabinet and now the new 10 player cabinet featuring a high solution LCD screen with amazing 3D graphics!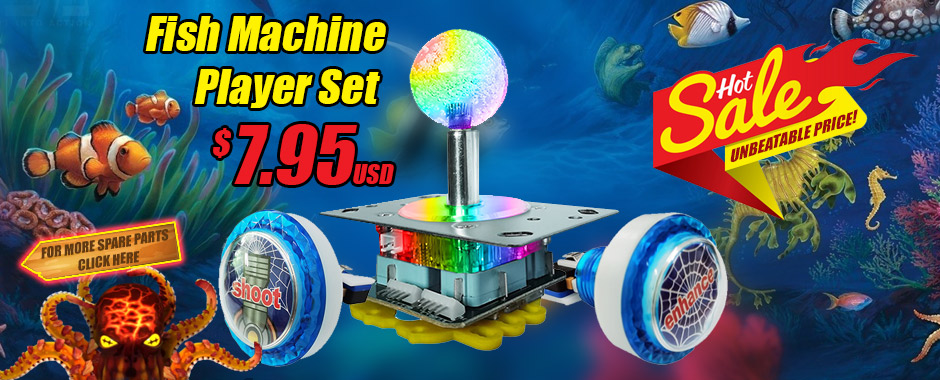 Build Your Own Ocean King Arcade Fish Machine
Choose your favourite ocean king game board, then choose your cabinet and accessories, and have us custom build the fish machines for you.
We can even customise the stickers, plastic and cabinet colour to match your store. Your own custom designed ocean king arcade machine can be designed in minutes.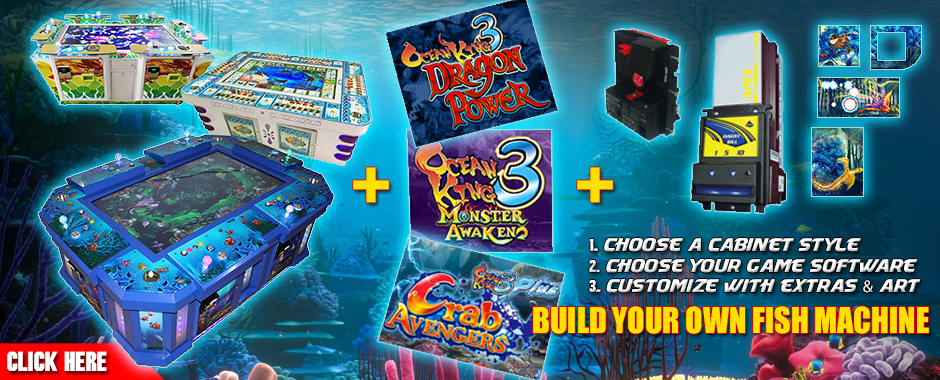 Gameplay and Features
Simply insert your coins into the coin acceptor (or whatever input/output options you've purchased to put on and payout credits) and then use the joystick to aim your net gun the fishy targets. When you have lined up a target, hit the 'SHOOT' button to try and catch the fish as they swim by. You can also use the 'WEAPON' change button to change the type of gun and net size you are using – there are three main guns which players can switch between at any time during the game. When you have finished hold down the payout button for 3 seconds to collect your tickets.
Up to 6, 8 or 10 players acceptable at the same time.
32 or 55 or 58 inch A-level LCD display with big table-board – more space, more fun!
Full 3D graphics bring you the real appearance of the undersea world!
Three interchangeable guns, including the new Cumulative Super Gun!
16-28 fish and characters to catch and heaps of different scenes to enjoy.
Plenty of input and output options to suit your locations needs, which you can check out on the Configuration page.