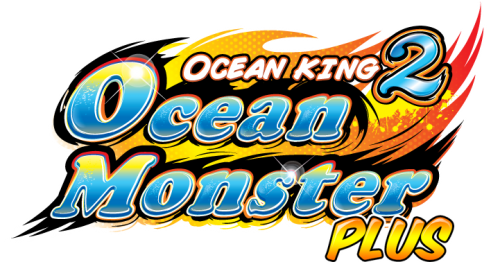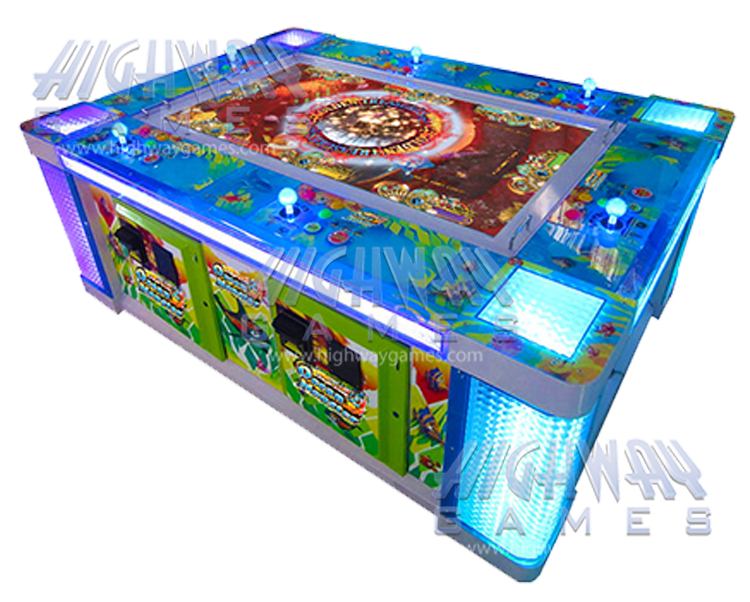 Ocean King 2: Ocean Monster Plus Arcade Machine is an English version dedicated 6 player video redemption game, which features loads of new characters and features for players new and old to enjoy!
The Ocean King 2 Ocean Monster Plus Arcade Machine includes the usual fish characters up for grabs, plus mini game crabs, three JUMBO sized fish, three dragon characters and four epic BOSS characters! The aim of the game is for players to use their guns and it's three settings ('Normal', 'Accelerated', and 'Aim for the Target') to catch as many fish as possible within the time frame of the game!
About Ocean King 2 : Ocean Monster Plus
The guns in the game run at three power levels – Normal, Accelerated, and Aim for the Target – and there are also operator adjustable features, such as High or Low Value Odds on fish.
The different fish players can catch include: Fugu, Clown Fish, Butterfly Fish (these three are also JUMBO fish), Lionfish, Flying Fish, Spearfish, Lantern Fish, Devilfish, Lobster, Octopus, Sea Turtle, Saw Shark, Shark, Imperial Whale, Killer Whale, Blazing Dragon, Thunder Dragon, and Fire Dragon Turtle. The Boss characters are super tough and are known as the Almighty Octopus, Emperor Crab, Darkness Monster, and Ancient Crocodile.
Build Your Own Ocean King Arcade Fish Machine
Choose your favourite ocean king game board, then choose your cabinet and accessories, and have us custom build the fish machines for you.
We can even customise the stickers, plastic and cabinet colour to match your store. Your own custom designed ocean king arcade machine can be designed in minutes.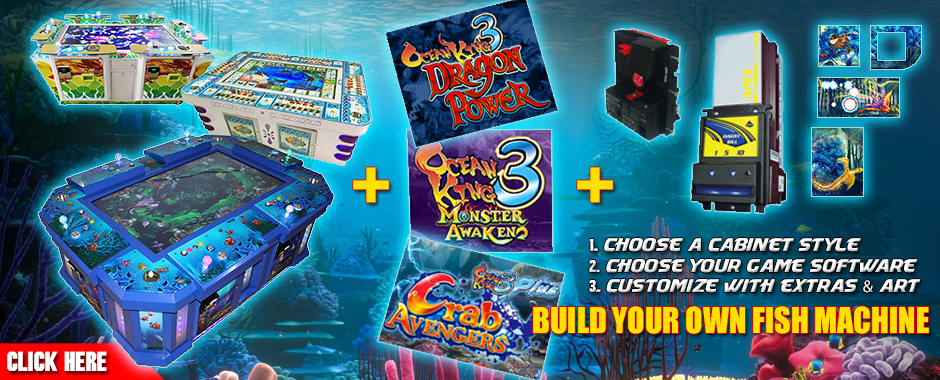 Also available in 8 & 10 Player Ocean King Arcooda Machine (Plug and Play)
Arcooda 8 Player Fish Cabinet
Arcooda 8 Player Premium Fish Cabinet
Arcooda 10 Player Premium Fish Cabinet
Mini Games
Ocean King 2: Ocean Monster Plus Arcade Machine also features several fun and exciting mini-games, some of which star the crab characters, which appear at random throughout the game and include both multiplayer and single player games. Mini-games include:
-Laser Crab allows players who catch it to be rewarded with a special Laser Beam weapon for a limited time only – it's a one shot weapon though, so use it wisely!
-Drill Crab when caught fires multiple drills around the playfield, giving players more chances to catch fish. After a while the drill explodes affecting and/or catching even more fish within range.
-Super Bomb is activated by catching a Super Bomb Crab will trigger the chained bomb attack in a wide explosion, affecting all fish on the playfield at the time, making them much easier to catch.
-Roulette Crab is a random single person game which is activated by catching the right crab character. Players spin the roulette wheel and win points based on where the players stops the wheel.
-Vortex Fish is activated by catching one of the following fish will trigger the Vortex effect and suck all the other fish of its kind on the playfield into a whirl pool: Flying Fish, Lionfish, Lantern Fish, Clown Fish, Spearfish, Butterfly Fish, Flatfish, Fugu, Lobster, Octopus, Sea Turtle, and Saw Shark.
-Lightning Chain is activated by catching one of the following fish will trigger the lightning chain effect and start catching other fish automatically until it runs out: Clown Fish, Flying Fish, Butterfly Fish, Lionfish, Fugu, Flatfish, Spearfish, Lobster, and Octopus. Players receive the value of all fish caught.
-Fire Storm is a one player game awarded at random, in which the player will receive a flamethrower that causes extreme damage to fish and multiplies their values. The weapon is available for a limited time only, though players can also obtain additional time and multiply their score during the game.
-Golden Treasures is a multiplayer game gives players a special searchlight to look for the Imperial Whale and the Golden Fish. Catching these fish will award high scores to players, and they may also get a roulette treasure box that adds in or multiplies the total scores.
-Thunder Dragon releases a Jackpot feature when caught. This not only awards points for the Thunder Dragon but also causes a thunder storm to happen that affects the entire playfield catching all small to medium value fish on the playfield and damaging bigger ones.
-Fast Bombs is a random free single player game in which the player can press shoot for a continues attack of bombs on fish, but only for a limited time.
Ocean King 2: Ocean Monster Plus Arcade Machine builds on the elements that have made the series so popular and will stand out in the middle of any location, drawing in players from all across the floor. This machine, like its predecessors, is a high earning machine in a variety of locations, and is fun for players of all skill levels!
Take a look at the Ocean King 2: Ocean Monster Plus Arcade Machine in the video below:
6 Player Ocean King 2: Ocean Monster Plus Arcade Machine
Dimensions: 145W x 194D x 93H (cms), 250kgs
8 Player Ocean King 2: Ocean Monster Plus Arcade Machine
Dimensions: 163W x 205D x 98H (cms), 250kgs
Available Options:
-Key In/ Key Out
– Coin In/Coin Out Version Machine
– Bill Acceptor/Thermal Printer Machine
– Coin In/Ticket Redemption Out (for FEC and arcade centres)
-PlayPortal Cashless System
Upgrade Your Old Cabinet With Software Upgrade Kit
If you already have an existing IGS fish game machine, upgrading it to the latest game – like Ocean Monster – is a very simple process. Operators simply have to plug out old boards, etc. and plug in the new kit. Plus, you can trade in your old IGS game board!
If you are using a fish game machine from a different factory, we can still help you upgrade your cabinet to the latest and most profitable game by offering customers wiring harnesses and equipment to assist the upgrade.