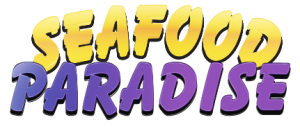 Seafood Paradise is a video redemption, fish hunter arcade game machine with an ocean theme, perfect for bringing a new life to your location! This bright cabinet with it's wide array of characters and features will keep players of all ages interested and coming back for more chances to win.
The fish hunter style games have experienced a great amount of popularity and success across various regions and in a variety of locations, and Seafood Paradise continues to build upon that popularity. In this game there is one of the biggest cast of characters for players to catch, these fish include: Flying Fish, Jellyfish, Starfish, Butterfly Fish, Fugu, Sea Horse, Lionfish, Lantern Fish, Lobster, Sea Turtle, Stingray, Squid, Nautilus, Sharks, Dugongs, the Blue Whale, and more!
The aim of the game is for players to try and catch as many fish as they can in the allotted time, and players will receive a point score based on how many and what types of fish they catch (as different fish are worth different amounts). Players can even earn high-score rewards for all their hard work! To help catch these wiley fish characters, the players' arsenals are equipped with three powerful special weapons and a special character weapon! Please note, all special weapons will automatically fire if the players has not used within 5 seconds.
Special weapons include:
– Energy Laser — Cut straight through fish in a straightforward direction
– Power Grid — Last in the fields for 5 seconds
– Invincible Bomb — Damage all fish in the field at once
The special character weapon is titled the Spongebob Bomb! This awesome character feature cane give playes a x2~x10 bonus with a maximum of 1000x reward!
But that's not all – the game also has a number of features or mini games for players to enjoy. Using these features requires quick thinking and can help players to catch more fish and achieve higher scores. These mini-games include:
-Lucky Fish – When killing the lucky fish, player will get a x2~x3 Bonus reward for any kind of fish. Maximum reward is 150 time Bets!
-Convenient Operation – This is an Auto Attack or Aim Attack, it makes the game operation more convenient and easy! Catch any fish you want!
-Timer Bomb – Shoot the Timer Bomb and cause a huge undersea storm! The storm will attack all the fish in the field and any fish killed by the storm belong to the player who launches the Timer Bomb.
-Fish King – Fish surrounded by a dolphin ring become Fish King. Killing the Fish King causes all fish of the same kind in the field to die and the players who captures the fish king will get all the fish that match it.
The cabinet features a LCD monitor with high definition graphics, the use of full-color high-definition scene dynamic production, and support of online games. It also features a colourful and attractive cabinet design, brightly lit with LED lighting and catchy game music to keep players entertained. This is perfect for customers looking to bring an exciting new game to their location or looking to boost profits. With such a large cast of characters, mini-games and features, it feels like your playing a new game every time!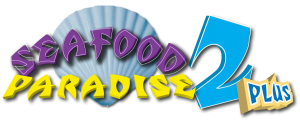 The Seafood Paradise machine has been a huge hit with players over the years, and to continue this popularity and ensure the series longevity, it now comes as the latest version, Seafood Paradise 2 Plus!
The Seafood Paradise 2 Plus upgrade will take your Seafood Paradise cabinet and update it withe the latest game play features and games! This Advanced Version software is a 6-8 player PCB featuring the same marine-styled graphics.
This Seafood Paradise 2 Plus game board comes with a main game board, IO board, small keyboard, communications cables, and a 12V/5A power adaptor – everything you need to update your current Seafood Paradise game to it's latest and greatest version.
The game itself comes with a number of fun features to keep player entertained and coming back for more chances to win! The main difference between this version and its predecessor is:
-Puffer fish added: catch the light puffer fish to obtain an iron-bomb;
-Greedy fish: increases their rate 200-600 times by eating fish under 10 times rate;
-Whale values increased: red whale 100 to 300 times and gold whale 300 to 600 times;
-Pikachu: shoot at Pikachu to trigger a chain lightning;
-Increase in activation function: You can activate the profitable scores by factory default setting using an activation code; same with marketing.
Seafood Paradise 2 Plus part of the English version series, and includes new game play for increased profits.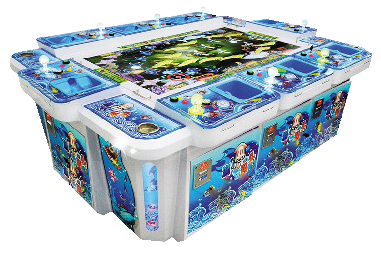 Features fo Seafood Paradise Arcade Machine:
-6 or 8 players acceptable at the same time!
-Key In/Out Function for Operators!
-Full 3D graphics displayed on LCD monitor brings undersea world to life!
-Four special weapons and four mini-games/features appear at random throughout the game!
-One of the biggest cast of characters in a fish hunting style game!
Machine Size:
-8 player – 150 x 204 x 80 (cm)/ 175 (kg)