The Ocean King 2 : Monster's Revenge Arcade Machine is an 8 player video redemption, fish hunter style game which is the follow up to the phenomenally successful Ocean King game. The game features a 55″ LCD screen with HD 3D graphics, bringing to life the new stages and the characters in the game with intense detail and vibrancy! This action-packed game is thrilling for both players and onlookers, with more to do and see than other games available in the market – it's like s different game every turn!
About Ocean King 2 : Monster Revenge
While the game has kept features of the original Ocean King, such as Chain Lightning, Overlord Whale, and has 16 returning characters, it also has a huge number of all new features, characters, and mini games for players to enjoy. Also, for smooth transition between games, the game controls are the same, with players controlling the direction of their gun or weapon with the joystick, firing said weaopn with the 'SHOOT' button and changing between them with the 'WEAPON' change button.
The aforementioned  returning characters from the original game include: Flounder, Snapper, Devilfish, Fugu, Clown Fish, Lion Fish, Butterfly Fish, Lantern Fish, Saw Shark, Lobster, Octopus, Sea Turtle, Shark, Killer Whale, Overlord Humpback Whale, and a revised Bomb Crab. This is complemented by new characters, such as the scary Fire Dragon, Electromagnetic Cannon Crab and the Giant Fish, which are supersized versions of low profit fish like Clown Fish, Fugu, or, Butterfly Fish – but much harder to kill.
Build Your Own Ocean King Arcade Fish Machine
Choose your favourite ocean king game board, then choose your cabinet and accessories, and have us custom build the fish machines for you.
We can even customise the stickers, plastic and cabinet colour to match your store. Your own custom designed ocean king arcade machine can be designed in minutes.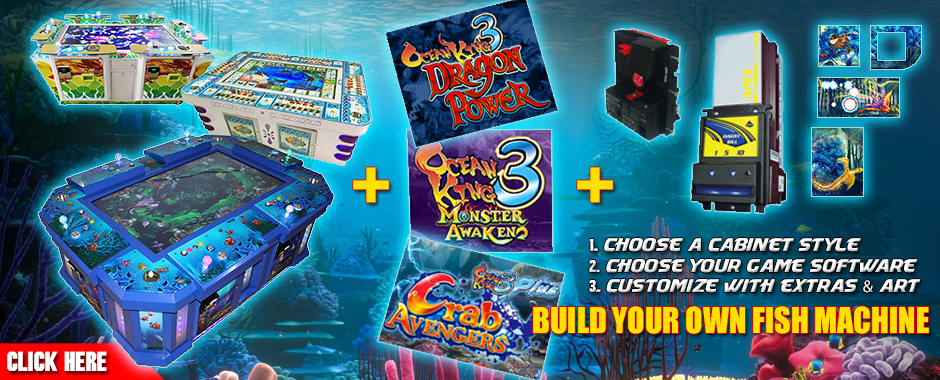 Also available in 8 & 10 Player Ocean King Arcooda Machine (Plug and Play)
Arcooda 8 Player Fish Cabinet
Arcooda 8 Player Premium Fish Cabinet
Arcooda 10 Player Premium Fish Cabinet
The Fish
The Ocean King 2: Monster's Revenge also has a new BOSS game play feature with the introduction of four new characters. These marine monsters are out for revenge and are incredibly hard to take down! The BOSS characters include:
– The Prehistoric Giant Crocodile – he will attack players as he swims by, damaging their weapons.
– The Night Monster – who makes the screen go dark, and it becomes very hard to see any of the other fish to score points.
– Overlord Crab – all hail! This king of crabs can be taken out either by damaging his pincers or killing him directly.
– Deep Sea Octopus – this monster is too huge to fit on the screen, players must attack his tentacles to defeat him!
Features amd Mini-Games
To help players with this range of new and powerful characters, Ocean King 2 has equipped players with three regular weapons, which players can switch between at any stage of the game, including Fish Net, Gun Tube, and Lock gun. It also has some crazy powerful weapons which will help players to catch more or bigger fish! Players who want to earn high scores need to use these super weapons. The weapons include:
– Chain Explosion Crab – revised Bomb Crab weapon that explodes 3 times, moving around the screen with each explosion! This is capable of killing all fish in range with a maximum of x10 credits.
– Flamestrike De-Buff – appearing at random, players must shoot the weapon within the time limit and they will be eligible to get Double Score or Extension of Shooting time.
– Drill Cannon – ricochets around the screen, damaging and/or killing everything in it's path and explodes once it stops moving.
Ocean King 2 introduces a never-before-seen mini game as well, called Battle in the Golden City, which appears randomly and is free to enter. Players must catch the fish within the time limit and the score potential is unlimited, with players earning great rewards, such as Double Treasure Chests!
There are many operator adjustable features on the game, to customise the Ocean King 2 to your location, including Payout feature, sound effects, background music, shooting time limits, chance levels, and odds, plus many more!
The huge popularity of the Ocean King has seen it become a top income earner ina variety of locations and keeps players of all skill levels coming back time and again for more chances to play and win! Ocean King 2 : Monster's Revenge builds on this popularity and provides players with an even bigger game and more content than it's predecessor!
Available Options:
– Coin In/Coin Out Version Machine
– Bill Acceptor/Thermal Printer Version Machine
– Coin In/Ticket Redemption Out (for FEC and arcade centres)
LOWEST PRICE PRICE GUARANTEE